Tinted Film BLACK 5% BK05 SUPER DARK BLACK DIY KIT
Product Standards
BK05 SUPER DARK BLACK DIY KIT
Tinted Car Glass Window Film
BK05 (SUPER DARK BLACK) is the best choice for economy sun control film.
DIY Kit for Solar Film
Glue tinted film is available in 1PLY/2PLY structure and optional anti-scratch coatings. Our experience in color scheme and auto film production can offer you best quality with competitive prices.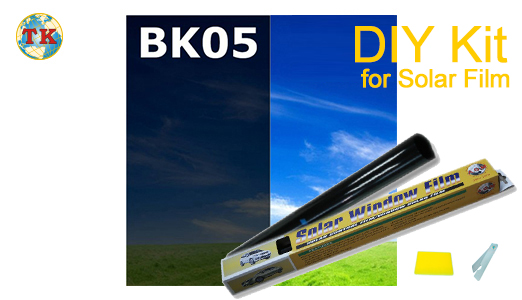 Product Descripition
FEATURES
Manufacturer supported with factory prices.
Best economy choice for window films.
Quality controlled production.
Over 30 years of experience in window film industry.
We can OEM/ODM your film and match your requested color if sample window film provided.
SPECIFICATION
1PLY or 2PLY window film construction available
Optional UV reduction is available in 2PLY film.
Anti-scratch Coating is optional.
Dark colors for VIP privacy and limo tinting looks.
Radio signals not interfered.
Reduces Glare and improves safety.
Special sticky glue formula, no peeling and strong cling to glass.
Window film size (width/length) can be customized.
JUMBO roll for tinting professionals
MASTER roll for window film distributors
DIY window film packages for retail customers
SPECIFICATION TABLE
Item No.
Color
VLT%
UV%
IR%
BK02
Ultra Super Black
2%
98%
25%
BK05
Super Dark Black
5%
94%
25%
BK10
Dark Black
10%
90%
23%
BK15
Medium Black
15%
85%
21%
BK35
Black
40%
61%
20%
BK50
Light Black
55%
49%
20%