Double wire hose clamp
Product Standards
1.Material: Iron electroplating,Galvanized
2.Such a product is the use of two wires around the clamp, necessary to use this type of pipe clamp;
it can make the clamp and the bundle of the clamp more closely. If you use the hose for the screw type,
recommend to use this type of hose clamp;
This series of product is formed by two parallel wires as its binding wire and it can attach to your pipe more closely.
If with spiral pipe,it will be your best choice.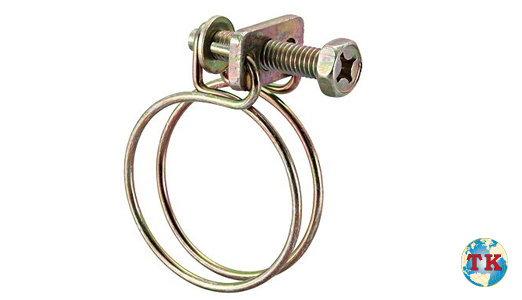 Product Descripition
ITEM NO.:HF-6501
SIZE

∅ WIRE

Packing List

(∅ D)

Pcs/Box

Pcs/Ctn

N.W.

G.W.

CUFT

WIRE CLAMPS

10-13 mm

 

200pcs

2000pcs

18.6kgs

19.8kgs

0.97'

14-16 mm

1.6 mm

200pcs

2000pcs

19.4kgs

20.5kgs

0.97'

17-19 mm

 

200pcs

2000pcs

20.0kgs

21.2kgs

1.30'

20-22 mm

 

200pcs

2000pcs

21.2kgs

22.4kgs

1.30'

23-25 mm

1.8 mm

200pcs

2000pcs

21.5kgs

22.8kgs

1.30'

25-29 mm

 

200pcs

2000pcs

23.3kgs

24.7kgs

1.62'

28-32 mm

 

100pcs

1000pcs

18.5kgs

19.8kgs

1.30'

34-38 mm

 

100pcs

1000pcs

19.5kgs

20.9kgs

1.62'

38-42 mm

2.0 mm

100pcs

1000pcs

20.9kgs

22.5kgs

1.95'

44-48 mm

 

100pcs

1000pcs

21.7kgs

23.4kgs

1.95'

47-51 mm

 

100pcs

1000pcs

26.4kgs

28.4kgs

2.73'

53-57 mm

 

100pcs

1000pcs

26.6kgs

28.6kgs

2.73'

58-64 mm

 

100pcs

1000pcs

30.0kgs

32.0kgs

2.73'

64-70 mm

 

100pcs

1000pcs

31.7kgs

33.7kgs

2.73'

71-77 mm

 

50pcs

500pcs

16.7kgs

18.2kgs

1.62'

77-83 mm

 

50pcs

500pcs

18.0kgs

19.6kgs

1.62'

83-89 mm

 

50pcs

500pcs

18.2kgs

19.8kgs

1.62'

89-95 mm

 

50pcs

500pcs

19.0kgs

20.6kgs

1.62'

94-102 mm

2.3 mm

50pcs

500pcs

19.3kgs

21.0kgs

1.62'

100-108 mm

 

50pcs

500pcs

21.0kgs

22.6kgs

1.95'

106-114 mm

 

50pcs

500pcs

21.4kgs

23.1kgs

1.95'

113-121 mm

 

50pcs

500pcs

22.7kgs

24.4kgs

1.95'

119-127 mm

 

50pcs

500pcs

22.7kgs

24.4kgs

1.95'

125-133 mm

 

50pcs

500pcs

24.0kgs

26.0kgs

2.73'

132-140 mm

 

50pcs

500pcs

24.0kgs

26.0kgs

2.73'

144-152 mm

 

50pcs

500pcs

28.0kgs

30.0kgs

3.22'