LUKOIL CVTF
Product Standards
俄羅斯盧克石油 - 台灣總代理 - 敦光國際
FULLY SYNTHETIC CONTINUOUSLY VARIABLE TRANSMISSION FLUID
Meets requirements
Nissan NS-1, NS-2, NS-3
Dodge/Chrysler/Jeep/Mopar CVTF+4
Honda HMMF / HCF2 / CVT
Toyota CVTF TC / FE
Mitsubishi CVTF-Diaqueen J1 / J4
Subaru Lineartronic chain CVT and CVT II Fluid
Subaru iCVT / iCVT FG / ECVT
GM/Saturn DEX-CVT
Daihatsu AMMIX CVTF DFE / DC / DFC / TC
Chery CVT
Audi Multitronic
Suzuki CVTF TC / CVTF 3320
Suzuki CVT Green 1 / 1V / 2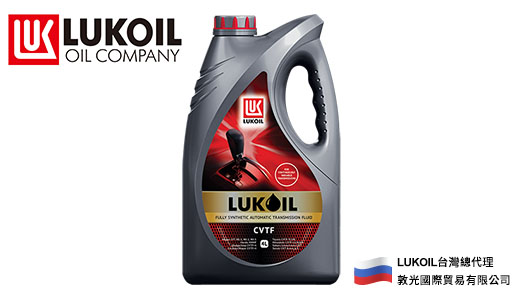 Product Descripition
LUKOIL CVTF – fully synthetic high quality continuously variable transmission fluid, specifically designed to meet the stringent OEM specifications and performance demands of push-belt and chain CVT's. LUKOIL CVTF is formulated from high quality synthetic base stock combined with well-balanced additive package with high-performance friction modifier.
FEATURES AND BENEFITS
LUKOIL CVTF is recommended for use in both belt-CVTs and chain-CVTs, equipped with either torque converter of wet start clutch. LUKOIL CVTF can be used as an alternative to Genuine Fluids of major OEMs: Honda, Mitsubishi, Toyota, Nissan, Subaru and many others. Not recommended for use in planetary gear hybrid and toroidal CVT units. For a complete list of OEM approvals and recommendations, please contact LUKOIL Lubricants company technical support service.